You are here
MUSIC CITY CENTER ANNOUNCES CALL FOR ARTISTS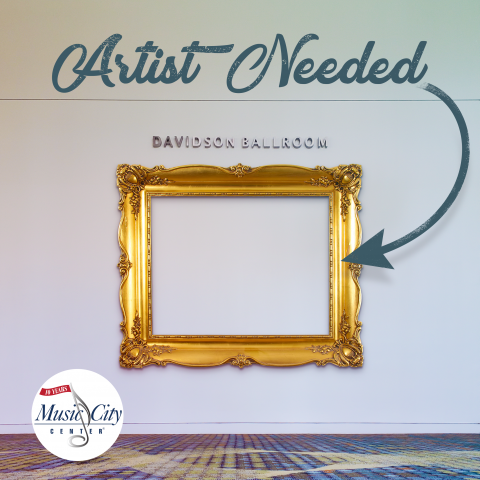 Nashville, Tenn. – Music City Center announces a call for artists to design, create, and install a piece of artwork to commemorate its 10-year anniversary. The Request for Proposals is effective today and posted on the facility website.
"We really want this artwork to be representative of our ten years in this city and this community," said Music City Center President and Chief Executive Officer Charles Starks. "We're fortunate to be surrounded by such talented artists, and we're excited to see what the final design will look like."
Qualified artists will have a large canvas on a blank wall (15' H x 23' W) located on the east side of the Davidson Ballroom inside Music City Center. The commissioned art will become the property of the facility and will be permanently on display.
Specific details and qualifications are outlined in the RFP. Artists must live in the state of Tennessee and within 100 miles of Nashville-Davidson County. The artwork must complement the architecture of the building but can include various media including, but not limited to, light, mosaic, new media, painting, and photography. The maximum budget for the project is set at $25,000.
"We opened this building with an extraordinary collection of art from more than 50 artists," Starks added, "and this is a long-awaited and eagerly anticipated addition."
Deadline to submit proposals is August 31, 2023, at 3 p.m. All proposals will be reviewed by an Evaluation Committee with a final design selected in the fall. Artwork must be installed by December 22, 2023. To view the full RFP document, visit the Music City Center website at https://www.nashvillemusiccitycenter.com/rfp-106-2023-call-artist.
About Music City Center
Located in the heart of downtown Nashville, Music City Center is a 2.1 million square foot convention center with more than 353,000 square feet of exhibit hall space, two ballrooms, 55 meeting rooms, and a covered parking garage with 1,800 spaces. The mission of MCC is to create significant economic benefit for the greater Nashville area, while focusing on community inclusion, sustainability, and exceptional customer service, through conventions, trade shows, and community events.