You are here
MUSIC CITY CENTER EXPANDS RESTAURANT OFFERINGS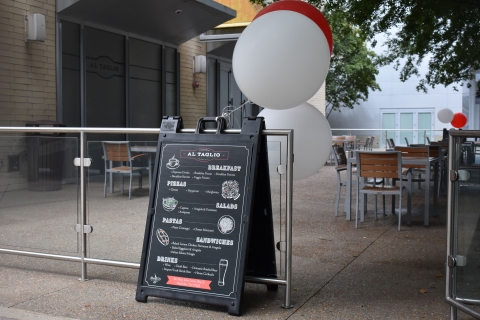 NASHVILLE, Tenn. – Music City Center is expanding its Al Taglio restaurant. The downtown pizzeria and café is now serving breakfast. The facility celebrated the new offerings with an open house on Wednesday, September 6.
Al Taglio is a fast-casual restaurant that serves convention center guests, locals, and tourists alike. The dining space is owned and operated by the center and located in the southeast corner of the building at the corner of Rep. John Lewis Way and Korean Veterans Boulevard.
"This corner lacks an abundance of quick breakfast options, and we're excited to be able to offer that to our guests, as well as those who live, work, or visit downtown Nashville," said Music City Center President and Chief Executive Officer Charles Starks.
The new menu options blend traditional offerings with reimagined dishes. Customers can choose from breakfast burritos, frittatas, and pastries. Those with a more adventurous palate can opt for a breakfast pizza topped with eggs and sausage gravy or a grilled panini filled with blueberry compote, mozzarella, and arugula. Barista beverages brewed with Frothy Monkey coffee are also available.
"Our culinary team has once again surpassed expectations by creating unique and flavorful breakfast combinations that we think customers will love," added Starks.
The breakfast options add to the current lunch menu of pizza, pasta, soups, salads, sandwiches, and desserts.
Al Taglio is now open 7:00 a.m. to 3:30 p.m. Monday through Friday and 7:30 a.m. to 3:00 p.m. Saturday through Sunday. The full menu is served all day.
For more information, including a complete menu, visit the Music City Center website at https://www.nashvillemcc.com/food-beverage/al-taglio.
About Music City Center
Located in the heart of downtown Nashville, Music City Center is a 2.1 million square foot convention center with more than 353,000 square feet of exhibit hall space, two ballrooms, 55 meeting rooms, and a covered parking garage with 1,800 spaces. The mission of MCC is to create significant economic benefit for the greater Nashville area, while focusing on community inclusion, sustainability, and exceptional customer service, through conventions, trade shows, and community events.
###