You are here
MUSIC CITY CENTER TO HOST CONSTRUCTION OPPORTUNITIES CONFERENCE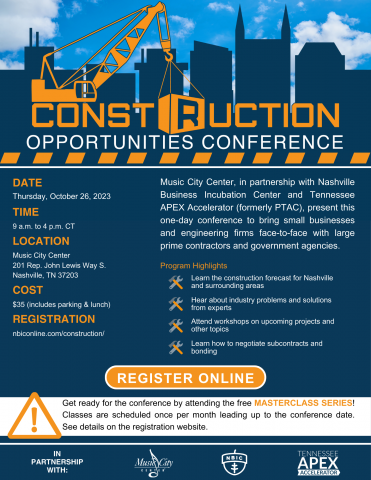 NASHVILLE, Tenn. – Music City Center, in partnership with Nashville Business Incubation Center and Tennessee APEX Accelerator (formerly Procurement Technical Assistance Center), will host a Construction Opportunities Conference this fall.
This is the second year for the one-day conference. As part of the facility's Diversity Business Enterprise Program, the event is designed to bring small businesses and engineering firms face-to-face with large prime contractors and government agencies.
This year, a series of masterclasses will also be offered, free of charge, to help prepare attendees for the conference. Beginning in June, one class will be held each month, leading up to the conference in October.
    WHO:       Music City Center
                 Nashville Business Incubation Center
                 Tennessee APEX Accelerator
    WHAT:     Construction Opportunities Conference
    WHEN:     Thursday, October 26, 2023
                 9:00 a.m. – 4:00 p.m. CT
    WHERE:   Music City Center
                 201 Rep. John Lewis Way S.
     Nashville, TN 37203
COST:      $35 (includes parking, lunch, conference, and workshops)
To register, visit the conference website at https://nbiconline.com/construction/. Descriptions and registrations for each masterclass can also be found on the website.
Deadline to register online for the conference is Thursday, October 19, 2023. Deadline to register online for the series of masterclasses is 12 p.m. CT one day prior to each class.
About the Music City Center
Located in the heart of downtown Nashville, Music City Center (MCC) is a 2.1 million square foot convention center with more than 353,000 square feet of exhibit hall space, two ballrooms, 55 meeting rooms, and a covered parking garage with 1,800 spaces. The mission of MCC is to create significant economic benefit for the greater Nashville area, while focusing on community inclusion, sustainability, and exceptional customer service, through conventions, trade shows, and community events.
###