You are here
MUSIC CITY CENTER RELEASES FY21 ANNUAL REPORT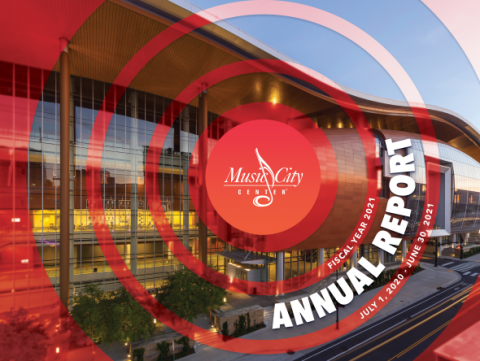 NASHVILLE, Tenn. – Music City Center President and Chief Executive Officer Charles Starks announced today the release of the convention center's annual report for Fiscal Year 2021.
The report details financial results for the 12-month period between July 1, 2020, and June 30, 2021. The numbers reflect the impact of the global pandemic on the expansive facility that thrives on in-person events.
"Music City Center faced many challenges in the last fiscal year," said Starks. "We sat empty for months, but our team stayed committed not only to this place but also to our guests and the city of Nashville."
Highlights from the year include:
Scheduled events generated $49.2 million in direct economic impact for Nashville.
Team members remained employed and compensated during temporary closures.
Health & Safety protocols were strengthened for the well-being of staff and guests.
Space and resources were made available to support community initiatives.
Sustainability efforts significantly reduced energy use and diverted waste.
"We're still making our way back, but we are extremely proud of all that we've been able to accomplish under extraordinary circumstances," added Starks. "We're also thankful for the continued support of our team, partners, guests, and community."
The annual report is produced for Music City Center on behalf of the Convention Center Authority. Highlights from the report will be featured on Music City Center social media channels Monday, January 31, through Friday, February 4. A digital copy of the full 22-page report is accessible online at www.nashvillemcc.com/cca/annual-report.
About the Music City Center
Located in the heart of downtown Nashville, Music City Center (MCC) is a 2.1 million square foot convention center with more than 353,000 square feet of exhibit hall space, two ballrooms, 55 meeting rooms, and a covered parking garage with 1,800 spaces. The mission of MCC is to create significant economic benefit for the greater Nashville area, while focusing on community inclusion, sustainability, and exceptional customer service, through conventions, trade shows, and community events.
###